Top School Ranking 2017

Christ Nagar Central School is awarded as one of the top schools of Indian Ranking 2017 for the co-curricular activities along with academics by DL Digital Learning.
Green Army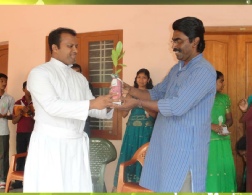 Green army is the most prestigious association in our school which takes initiative to create modern farmers in the campus. The school is surrounded by greenish fences which blows out the fresh air for the students. School got special appreciation form agricultural department, at kattakkada.
British Council Award
British council award team scaled the educational standard of our school by continuous observations of our educational curricular and co-curricular activities. Principal, Fr. Chacko Puthukulam CMI received the international award during the academic year 2012 -2013 in Mumbai.